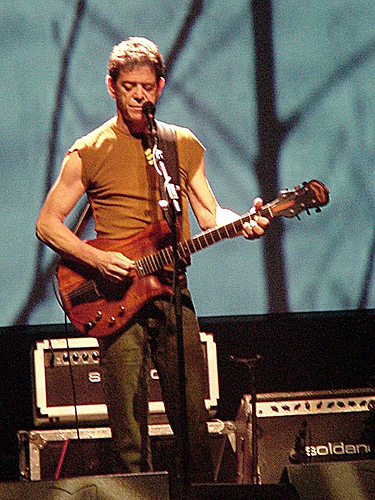 (To listen to while you read this: The Blue Mask.) New York City helped to define who Lou Reed was, but since I first became aware of him in the mid-seventies, Lou Reed played a big part in defining what New York City was to me. It's difficult for me to picture the city without him.
The possibility of actually seeing him in public there was part of the fun. Once, while my wife and I were attending the lesser-known Shakespeare play "Corialanus" at the BAM Harvey theater, I went to the men's room during the intermission, and on my way out there was a line of guys waiting to get in, with Lou halfway back in the line.
My better Lou story took place at Rudy's Music Stop somewhere in the mid-eighties. 48th street was known for its music stores, and while there were big famous ones like Sam Ash and Manny's, when I worked near that neighborhood and was in a band I usually went to Rudy's Music Stop, a smaller one, to get guitar strings and so forth. They specialized in Schecter guitars, one of which I had (and still have), and Reed was Schecter's most famous customer. One day on my lunch break I went there to look at some pickups I was thinking of adding to my guitar, and Reed was sitting on a fold-up chair, alone in a store that would have been crowded with seven people in it. You know how sometimes you see a celebrity in day-to-day life and you're not sure whether it's really the person you think it is? With Lou Reed, there was absolutely no question who was sitting there with a black T-shirt and black jeans faded to two different shades of gray.
I didn't want to be a gushing fan boy and tried to act like a cool New York musician guy, with plenty of inspiration for this three feet away from me. There was an empty, open guitar case across the counter of the store's main glass case, and I had to lean down to peer under it at the pickups that I was interested in, and Reed jumped up said "Oh, let me move that for you." I guess he was waiting for them to do some work on the case's contents in the back room; I took the opportunity to say that I had seen him the previous April at the Ritz (after it moved to the former Studio 54—it was his Blue Mask tour) and that he had an amazing band with him: Robert Quine, another hero of mine, on lead guitar; Fred Maher on drums, and Fernando Saunders on bass. Lou said "Thanks, man" and I left it at that.
I've certainly heard stories of him being an asshole to people, but I'll never forget him jumping up to move his guitar case for me. I'll also never forget how I found "White Light White Heat" in a local record store cutout bin when I was 16 and thought "this is Lou Reed's old band, before he put out 'Walk on the Wild Side' and 'Rock and Roll Animal'" and how I brought it home, put it on, and learned—as I learned from William Burroughs around the same time—that there was a much bigger world out there than I had imagined. And I'll never forget how, since then, Reed put out enough great music to guarantee his historical importance even if there had never been a Velvet Underground: Street Hassle, The Blue Mask, Magic and Loss, and the solo albums before I discovered the Velvet Underground: Transformer, Coney Island Baby, Berlin, and all the ones in between. I saw him perform live four times, and he was always mesmerizing and always rocked very, very hard.
In the simplified history of rock and roll, Bob Dylan showed everyone that lyrics could be about more than cars, girls, and school. From his study with Delmore Schwartz at Syracuse University, Reed had already figured that much out, and when that background got paired with John Cale's Lamont Young and John Cage influence in a loud dissonant band playing at Andy Warhol parties, it made people of that decade and every decade since rethink the possibilities of what rock and roll could be. Reed continued to produce great songs, lyrics, music, and guitar playing in each of those decades, and it's sad to think that we in general and New York City in particular won't have him anymore.
Lou Reed picture by Mike McGrath, Creative Commons CC BY-NC-ND 2.0